Nine First Fridays Sacred Heart of Jesus Devotion
The Promises of the Sacred Heart of Jesus to St. Margaret Mary Alacoque
1.     "I will give them all the graces necessary in their state of life."
2.     "I will establish peace in their homes."
3.     "I will comfort them in their afflictions."
4.     "I will be their secure refuge during life, and above all in death."
5.     "I will bestow a large blessing upon all their undertakings."
6.     "Sinners shall find in My Heart the source and the infinite ocean of mercy."
7.     "Tepid souls shall grow fervent."
8.     "Fervent souls shall quickly mount to high perfection."
9.     "I will bless every place where a picture of My Heart shall be set up and honored."
10. "I will give to priests the gift of touching the most hardened hearts."
11. "Those who shall promote this devotion shall have their names written in My Heart, never to be blotted out."
12. "I promise thee in the excessive mercy of My Heart that My all-powerful love will grant to all those who communicate on the First Friday in nine consecutive months, the grace of final penitence; they shall not die in My disgrace nor without receiving the Sacraments; My Divine heart shall be their safe refuge in this last moment."
Five First Saturdays Immaculate Heart of Mary Devotion
Given to the 3 shepherd children at Fatima, this devotion involves doing the following practices on five consecutive first Saturdays of the month, with the specific intention of making reparation for the five gravest offenses of man against the Blessed Virgin.
1.  Go to Confession (within 8 days before or after the first Saturday).
2.  Receive the Holy Eucharist
3.  Pray five decades of the Rosary
4.   "Keep me company for fifteen minutes while meditating on fifteen mysteries of the Rosary."   This is separate from praying the Rosary and is preferably done in the presence of the Lord in the Tabernacle or at Exposition of the Blessed Sacrament.
The Five first Saturdays of reparation devotion was requested by Mary in order to atone for the five grave offenses that people have committed against the Immaculate Heart of Mary:

1.  Attacks upon Mary's Immaculate Conception
2.  Attacks against Mary's Perpetual Virginity
3.  Attacks upon her Divine Maternity and the refusal to accept her as the Mother of all mankind
4.  Those who try to publicly implant in children's hearts indifference, contempt and even hatred of this Immaculate Mother.
5.  Those who insult her directly by profaning her sacred images.
The benefits of making the five first Saturdays devotion to the Immaculate Heart of Mary are twofold: 
1.  The Virgin Mary's assistance at the hour of death with the graces necessary for salvation.
2.  Salvation of souls and peace as a result of promoting of the Devotion to the Immaculate Heart.
The Miraculous Medal of Mary and Jesus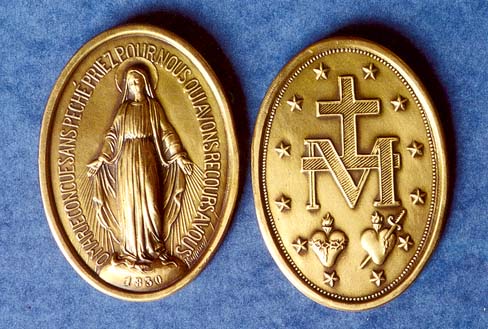 Devotion to the Holy Face of Jesus
 The Seven Sorrows of Mary